Erich Maria Remarque (1898)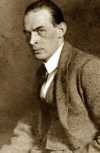 Drafted into the German army at age 18, Remarque served in World War I and was wounded several times. From his experience of trench warfare, he drew a grimly realistic picture of the horror of battle in his first novel and masterpiece, All Quiet on the Western Front. It was an immediate international success, and Remarque went on to write several other novels. All Quiet on the Western Front was later burned by the Nazis, who guillotined which of his family members in 1943? Discuss


Jean-Paul Sartre (1905)

Sartre was a French philosopher, playwright, and novelist who became the foremost exponent of existentialism in the 20th century. His first novel, Nausea, was one of many works depicting man as a lonely being burdened with a terrifying freedom. He served in World War II, was taken prisoner, escaped, and was involved in the French resistance, during which he wrote multiple works. In 1964, he became the first person to voluntarily decline the Nobel Prize in Literature. Why did he refuse it?


Chester Burton "Chet" Atkins, Mister Guitar (1924)

Atkins got his first guitar by making a trade with his brother, and it was arguably the best deal he ever made. Although he struggled with shyness and suffered from severe asthma—he had to sleep sitting up and often fell asleep still holding his guitar—he became an accomplished guitarist and went on to release several hit records, develop a signature line of guitars, and help create country music's "Nashville sound." What did "Mr. Guitar," as he came to be known, trade to get that first guitar?


Julia Roberts Online
Julia Roberts resource with latest news, monthly newsletter, biography, filmography, photo gallery and more on Julia Roberts.
Drew Barrymore Once Spray-Painted Her Ex-Boyfriend's Car

Don't mess with Drew Barrymore. The 43-year-old actress admitted she once spray-painted her ex boyfriend's car on Thursday's episode of Jimmy Kimmel Live!. Barrymore...


Lily Collins Channels a Summer Garden and More Best Dressed Looks

This week, the summer solstice marked the first day of the season. Luckily, celebs were already showing us how to do it in style. Leading sophisticated society, Lily Collins took on the...


A Look Back at the BET Awards' Best Looks of All Time

At the BET Awards, you can bet that the celebrities on the red carpet are going to serve up some major looks. The annual award show has been the source of epic fashion moments for celebs...


SZA's Rollercoaster Year: From A Platinum Debut Album to a Near Career-Ending Health Scare

Exactly one year ago, SZA had officially made it. Praised as the voice of a generation, the singer's debut studio album, Ctrl, explored the complexities of adulthood and modern...


The Exact Plan Khloe Kardashian Is Using To Get Back in Fighting Shape Post-Baby

Bible--Khloe Kardashian doesn't do starvation diets. While the Keeping Up With the Kardashians standout has been open about her desire to get snatched and, in her words, "f--k up...


m