Ulysses S. Grant (1822)

Though he served with bravery in the Mexican-American War, Grant resigned his post several years later, possibly due to his heavy drinking. However, he returned to serve in the US Civil War and won a string of brilliant victories. Three years after Confederate general Robert E. Lee surrendered to him, ending the war, Grant was elected president. Still, he spent his final years in poverty after being swindled by a friend. Days before his death, he did what to secure his family's finances? Discuss


Ferdinand Victor Eugène Delacroix (1798)
Considered the foremost painter of the Romantic movement in France, Delacroix is known for his dramatic interpretations of scenes from mythology, literature, and political, religious, and literary history and for his sensuous use of color. His most influential work is 1830's revolution-themed Liberty Leading the People, which likely inspired the design of the Statue of Liberty. During a trip to Morocco, he painted many scenes of North African life. Why did he struggle to find subjects?


Karel Appel (1921)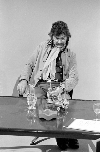 Appel was a Dutch painter and sculptor and co-founder of the abstract expressionist group COBRA, whose members hailed from Copenhagen, Brussels, and Amsterdam. Active from 1948 to 1951, the group created work featuring primary colors and spontaneous brushwork. Appel's own style was characterized by violent color and crude, reductive figures. Later in life, he turned to creating figurative sculptures in wood and metal. What was done to censor Appel's controversial fresco in Amsterdam City Hall?


Julia Roberts Online
Julia Roberts resource with latest news, monthly newsletter, biography, filmography, photo gallery and more on Julia Roberts.
m